Have you ever thought of hacking an Instagram account? No, not for misusing an account or for any other wrong purposes. We are talking about situations like when you want to check if your employee is cheating on you or just sneak into your partner's Instagram account to know what are they up to behind your back. Well, we know these are not ethical either but the truth is people do hack Instagram accounts and there are apps and tools to help them in this!
Yes, there are several Instagram password finder apps and tools that allow you to trace a person's password without them getting the slightest hint. Seeing the only positive side of this whole account hacking system, it can help business associates to find a cheat in their team.
Suppose, one of your trusted employees is selling your business plans to others or misusing the resources you have offered him/her. If you try this trick of hacking their account, you can probably save your company. That's how it works well in some cases and in some cases, it is just a personal benefit through illicit ways. It depends on you how you use it.
We are here to give you information on the top Instagram password finder. However, we do not encourage hacking. If you get caught due to any complaints and are proven guilty for hacking an Instagram account, you can be sentenced to years of imprisonment. Be careful, in what you do and these apps are exactly what you need!
Let's first know the ways of hacking an Instagram account and then get to the apps and tools required for the job.
Ways to hack an Instagram Account
Note: Hacking an Instagram account is a risky job as you may get hacked while trying to use someone else's account. The hacking process has increased steadily and so has the challenges involved in stealing passwords.
#1: The basic way of hacking Instagram accounts
You can try guessing sensitive information, such as birthdate, phone numbers, etc. to hack a person's account. In this case, the person would be someone you know very well. People who are not serious about protecting their passwords often lose their accounts to hackers this way. So, ensure your password has both numbers and letters.
#2: Hacking using a virus
There's a reason why public cafes are no more considered safe (they weren't earlier either). If you have ever logged in on the computers of libraries or cafes, this information will make you think twice before doing it again.
Each of your actions will be tracked and you will know nothing about it. We are talking about Keylogger. It is a type of wicked application that tracks each letter you type on the keyboard of a computer. That's enough to steal your password! Install virus protection in your computer to makes sure you don't lose the password from your personal PC either.
#3: Hacking an account using a password-requesting application
Remember, do not give away your password to anyone, mainly any shady app you install on your device. Apps that claim to show you the list of people who viewed your accounts, viewed hidden pictures and increase followers are actually targeting to get your password.
#4: Hacking an Instagram account with a Phishing page
Have you ever got any such email that asks you to log in to your Instagram account? If you ever get such mails, delete them immediately. It is nothing but a bait page that receives this data to use against you.
Top Instagram Password Finders
1. mSpy
Are you looking forward to opting for a trusted and simple way to get the Instagram password of your target account? If so, mSpy can be your god friend. This Instagram password finder works in a simple way – you need to register on its official website and provide some required details of the target's mobile phone and their Instagram account.
Once you give the details, download the mSpy mobile app on your target's mobile phone. As soon as the app is activated, you will get access to all the activities they do on their mobile phone through the mSpy dashboard. From Instagram, Snapchat to WhatsApp and Facebook, to their SMSs, calls and GPS location, you can know everything through mSpy.
The mSPy app works without any hassle on Android devices. But for iOS devices, you will need to jailbreak. However, if you are ready to invest in a package, you need not jailbreak and get to monitor an iPhone.
Note: mSpy is a paid Instagram password finder (or tool) that charges a monthly fee to the users.
Advantages
Compatible with both Android and iOS platforms
Wide range of features to track the target device
A fantastic control panel that helps to access the target device.
Convenient and simple user-interface for better user experience
Tracks real-time location with the location-tracking device
Disadvantages
Few complicated features for beginners
You may have to jailbreak to monitor iOS devices
2. KidsGuard Pro
KidsGuard Pro is an incredible software available with versatile tools you can use to hack an Instagram account. Most people count it among the best parental control apps as well. Not just hacking an Instagram account, KidsGuard Pro is excellent in filtering apps and sites on the target device. The software is built to perform well on both Android and iOS devices.
It features a web-based comprehensive dashboard, which you can access from any place. The dashboard allows you access to the activities taking place on the target device. The best of KidsGirad's features involves its Keylogger. With the help of the keylogger, you get to track the password of the target account. Once you steal the account. You can log in anytime you want. It gets possible for you to monitor all the activities of the account you just hacked!
KidsGurad Pro is also used to monitor calls, SMS and GPS location on the target device.
Advantages
Can function in stealth mode
Compatible with both iOS and Android Devices
Monitors the target device remotely
User-friendly and responsive interface
No surveys or adware
No need to jailbreak or root Android or iOS devices
Disadvantages
3. Hoverwatch
The next on the list of Instagram password finders is Hoverwatch, a powerful and versatile app for you. It doesn't demand expert knowledge to use this Instagram hacker app. You can rely on this software without worrying about any risks. Like KidsGuard Pro, this software has also got the ability to monitor the target device remotely.
Hoverwatch has got an excellent keylogger that records all the things typed on the target's device. The keylogger traces the Instagram account password being used on your target's device. So, you get what you need that easily!
Additionally, Hoverwatch helps to track the outgoing and incoming calls, messages, GPS location, etc. of the target's device. It has even got a call recording feature.
Advantages
Works with both Android and iOS devices
Extremely powerful and versatile software
Fantastic performance
User-friendly and neat interface
Disadvantages
4. IG Hack
IG Hack is one of the web-based tools that you can easily use to find the password of an Instagram account. It is another reliable and fast software. However, you will have to go through a quick survey before using the tool. The access to the target's Instagram password is the return gift you get for being a part of the survey! It is a straightforward process as everything is right there in front of you. The official website of IG Hack has got the professional touch with its simple and friendly interface. Using the IG Hack app, you can even hack another app to get the personal details of the account.
Advantages
Highly efficient to use
No need of registration to access the tool
Takes just 5 minutes to hack an Instagram account
Reliable and fast app
Allows to access personal videos, call logs photos and other applications on the target's phone
Disadvantages
Doesn't allow to access any data without completing the survey
5. Instagram Hacker
Instagram Hacker is one of the most popular apps used as an Instagram Password Finder and the best thing is it is free. You can easily set up the app – just follow the step by step directions to target the device you wish to hack. You don't even need to access the target's device like in case of other tools and apps mentioned on this list. Your target will have no hint that their device is being hacked. It's that simple! It is the best hacking tool for people who want to keep a check on their kid's activities. Or, people who are eager to know what their employees are using their social media handles for.
Advantages
An easy-to-access hacking app
Easier and faster setup and hacking process
Accessible for free
Reliable and trustworthy app
Disadvantages
Regular ads and pop-ups while using the app
Essential to download the tool to use it for finding the password of an Instagram account
6. Instaleak
Instaleak is another interesting tool that can come to use when you want to find the password of an Instagram account. As per the words of the developers, Instaleak has got the ability to hack any Instagram account within minutes. The app boasts of a simple and user-friendly interface that makes it stand out from the other similar apps in the market.
It is not a difficult task to download and install this app. Soon after the app is installed, you can get all the details of the Instagram account of your target. Make sure you provide the right username of the person's Instagram account you wish to hack.
Advantages
Efficient and faster to track the password of your target
Absolutely free tool
Compatible with both Android and iOS devices
Disadvantages
Takes a little longer to install
Not so reliable as compared to other tools in this list
7. Instagram Password Decryptor
Instagram Password Decryptor is used to retrieve the password of an Instagram account. If you are looking forward to an easy-to-access and hassle-free Instagram password finder, this can be a good option. You will need to install the app on your PC. Also, installing the app is not that difficult and it is compatible with several browsers at the same time.
Advantages
It is quite easy to install
Easy-to-use tool
Data when collected with HTML and TXT format, you can export it anywhere.
Compatible with all the browsers
Easy to set up
Disadvantages
Mandatory to download the app before accessing it to hack an account
8. The TruthSpy
The TruthSpy is another significant tool that serves as a beneficial app for finding the password of an Instagram account. To use this tool, you will have to register on the official site of TruthSpynand download the app on the target device.
Once you download the app, you will get access to a TruthSpy dashboard that will allow you to trace the activities of your target. From their Instagram password, photos, stories and videos, DMs to searched hashtags, you can know everything they do on this social media handle.
Not just Instagram, but you will also get to track their call logs, text messages, GPS location and more using this app. And this is not for a day or two, but as long as the app is installed on their phone. You can keep an eye on their mobile activities via the TruthSpy dashboard.
However, TruthSpy is not a free Instagram password finder tool. You will be charged a monthly fee to use the app/tool. You can choose from the three distinct packages to choose from.
Advantages
Monitoring social media activity
Tracking SMS, call logs, GPS location
Full Control & camera access
Complete internet activity report
Works on both Android and iOS devices
Easy-to-use app with a friendly user interface
Offers the widest set of mobile hacking features
Provides BBM chat conversations hacking
Easy sying without being identified
Disadvantages
Poor customer support
Lacks some crucial features
Contact and support page lack some necessary information
9. Pass Decryptor
Pass Decryptor is an Instagram password finder that has the ability to hack the accounts in 'safe mode'. The app works on a complex method of tracking techniques. Using this tool, you can access Instagram, Facebook, Twitter and even the email details. The software or app follows a two-step working procedure. Firstly, you need to create an account on the official website by paying a certain amount. Next is to install the app on the target device. Only then you can access the activities of their Instagram account, such as passwords, photos, stories, videos, audios, etc. Want to hack the FB account? You can do that too!
Advantages
Can decrypt and retrieve the password from an encrypted account on Instagram
Support GUI interface and Command-line version
Can recover several Instagram accounts stored in all the browsers on the system.
Discovers the web browsers on the system automatically
Traces the Instagram account password within minutes
Can save the tracked Instagram password to an HTML/XML/Text/CSV file
Faster and easier to use because of the user-friendly interface
Has an integrated installer to help you in local installation and uninstallation
Disadvantages
10. Spyzie
Although mentioned last in this list, Spyzie is not at all any less in popularity and functionality when it comes to Instagram password finder tools/apps. Spyzie is among the most reliable and accessible smartphone monitoring apps. Many parents and business owners use this app to monitor the mobile activities of their teens and employees respectively. Sometimes lovers also use it to watch over their partners. Well, we do not encourage these actions but if it could bring a positive change in people's lives, no harm in trying it once.
Talking about the features of Spyzie, it works well with both Android and iOS users. You don't need to root the phone to use the app. There are three simple steps to follow – register with an account on the official website, install the app and log in. You can then easily monitor the app. Spyzie has also got a Premium plan that allows you to access other things than Instagram account passwords, such as call history, browser history, SMS messages, videos, audios, photos and GPS location of the target's phone.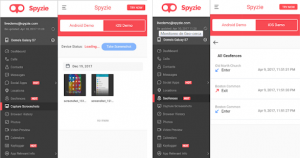 With the Ultimate Edition, you can use other advanced features of the app, such as viewing documents, bookmarks, emails, and checking content on other apps like Skype, Messenger, Viber and LINE. It also has the keylogger feature that makes the hacking of the Instagram account password easier and faster.
Advantages
Has a user-responsive interface
Easier and faster to use
Monitors the mobile activity of the target remotely
Disadvantages
Not available for other operating systems
Ways to recover Instagram Account Password
Now that we have talked about the Instagram password finder and ways to hack an Instagram account, let's throw some light on recovering the password.
There are several hackers who are 24X7 active and can hack your account as per their will through unethical cyber practices, Ensuring the safety of your account completely is not possible in the era of emerging technologies every day.
So, we have got you some ways that will help you retrieve your Instagram password, in case your account is hacked or you have forgotten the credentials.
Open your Instagram login page
Click on 'Need More Help' to recover your account
Confirm your email address as prompted after typing the email in the panel
Also, confirm your phone number in the same way
When done, you will receive a 6-digit code on the registered number and email address
Enter the code as prompted
Your account is recovered!
Conclusion
Hacking an Instagram account is not an ideal thing to do but if by any case you want to retrieve or steal an Instagram password, these different Instagram password finders are for you. We do not encourage any unethical cyber practices and would recommend using these apps and tools in cases of sheer urgency. Check out which one helps you the best.
Incoming search terms:
https://modapkdownload org/instagram-password-finder/