Who doesn't like to play games? They offer you an opportunity to detach yourself from the real world and have fun. Online multiplayer games even allow you to connect with your friends. However, most games nowadays are large in size and have heavy graphics. Not all people have high-end mobile phones, and if you're one of them, you may be looking for low MB games.
Your search ends here. Here are some fantastic low-end mobile games you should try right now.
Note: Since there are many categories of games, we have picked a couple of games from categories like arcade, racing, puzzle, strategy, sports, etc., to diversify this list.
Space Racing 3D — Star Race
Asphalt 8 and CSR Racing are the prominent games dominating the mobile racing arena. They are above 1 GB in download size and can even give high-end phones a run for their money. Space Racing 3D is an amazing racing game with a download size of under 15 MB.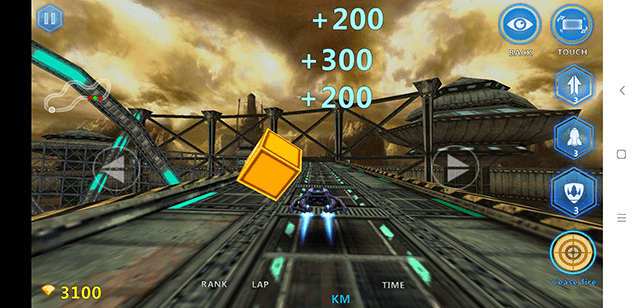 You can choose from 40 tracks and complete levels. Since the game size is under 15 MB, the graphics of the game aren't great. What's good, however, is that the game offers a lag-free experience on even the lowest-end devices.
Dr. Driving 2: Low MB Games
Almost every mobile gamer has played Dr. Driving. You enter the game as a car driver who needs to complete certain missions, such as parking the vehicle at a particular place.
Dr. Driving 2 is a sequel to the original version. It comes with better graphics, more vehicles, and different locations while managing to keep the game size under 25 MB. If you're a fan of driving simulation games, you should give the Dr. Driving series a try.
Chess 3D
Is there a better strategy game than chess? Not really. If you want to play an engaging game on your low-end PC, Chess is one of the best games to play. Chess 3D is a 3D chess game, and it's under 10 MB.
There's not much to say about chess, as you've probably already played it in high school. Chess 3D is just a digital version of the board game. The game has some unique features, though. For instance, you get hints and assistance if you're stuck.
Seedship
Seedship is a text-based game, and hence, its size is quite small. But don't let the text-based concept discourage you from playing it. The game is based on a sci-fi theme, where you are in charge of a spaceship, and you must land it on a habitable planet. During your journey, you will face several hardships, and you'll need to make important decisions. Seedship is a decision-driven game where your choices have an impact. The game has multiple endings.
Doodle Cricket
If you're a cricket fan, you may already be familiar with Doodle Cricket. If not, you should try it right now. It's a lightweight cricket game where you just have to tap a bat button to swing the bat. Running between the wickets happens automatically, so timing the ball well is all you need to do.
The game is under 15 MB in size, and it will work on all devices, regardless of their Android version, RAM, memory, etc. If you're a cricket fan, Doodle Cricket is one of those casual games you should have on your smartphone.
Prizefighters 1 & 2: Low MB Games
Prizefighters is a 2D boxing game with pixelated graphics. However, the graphics are the only thing you may not like about the game, as everything else is top-notch. The game has a single-player career mode that allows you to climb up the ranks. It offers comprehensive customization of your character.
Prizefighters also has a sequel called Prizefighters 2. The sequel has slightly better graphics, though the concept remains the same. Both the games are under 30 MB, and they'll work seamlessly on any device regardless of its specifications.
Unblock
Next up on our list is Unblock Car. It's a puzzle game with an interesting concept. You need to release a stuck car from a clumsy arrangement of cars. The game involves moving the cars forward and backward to free up the target car.
And to make things challenging, Unblock has 3,000 puzzles, four timer settings, and four levels. Above all, the game is only 4.44 MB in size, so you can run it on any device.
Shoot Bubble Deluxe
Shoot Bubble Deluxe belongs to a popular genre of bubble buster video games where you need to shoot bubbles or other objects from the bottom before they hit the ground. The game has over 300 puzzles, making it a perfect time killer.
The gameplay is very user-friendly. All you need to do is tap the bubble you want to burst and match it with a bubble of the same color to burst it. The same is just 3.1 MB in size, and it works well on all devices.
Devil Ninja 2: Low MB Games
If you've been playing Android games for a while, you might already be familiar with Devil Ninja. 2. It's one of the oldest games on the Play Store, and it belongs to the Arcade genre.
Devil Ninja 2 is an action-packed game where you play as a ninja who needs to fight and kill monsters. You'll also be able to collect energy balls and use them to get powerful weapons.
Auto Theft Gangsters
Grand Theft Auto released Vice City, San Andreas, and GTA 3 for Android and iOS a few years ago. However, they are heavy games without around a gigabyte of download size.
Auto-Theft Gangsters is a toned-down version of GTA games. The concept is the same; you play as a gangster and complete missions. So, if you're into crime, open-world games, try Auto Theft Gangsters.
Wrap Up: Low MB Games
With the recent rise of high-end phones, many game developers are offering high-graphics games. The drawback to these games is that they are heavy in size, and not all low-end devices can run it. If you're looking for games to play on a low-end mobile phone, the list of games mentioned above can be a starting point for you.