.Doing daily jigsaw puzzle games is an excellent thing for both kids and adults. For kids, it will help them to increase the thinking power. Brainstorming is essential to solve any kind of puzzle. If you are an office guy, it will also help you bring your mind into proper synchronization. After a humiliating previous day at work, it is quite possible to become less energetic the next morning. But, going through a daily jigsaw puzzle will help you open all the knots inside your skull. If you utilize your brain to think new things, naturally, it will sharpen your brain's thinking capacity. That's where jigsaw puzzles work as a perfect catalyst in keeping your mind active.
There are different kinds of online daily jigsaw puzzle games available for you. If you solve puzzles regularly, you can choose any one of them and continue to play according to the levels. Here are some of the most popular online jigsaw puzzle games for you.
Jigsaw Planet
Jigsaw Planet is one of the most popular destinations for playing free online puzzles. The website features thousands of puzzles. Those can discover on top lists or by searching in the toolbar at the top of the site. All of them can play within the browser window or in full-screen mode.
No downloading of any programs or plugins is required to play the puzzles on Jigsaw Planet as all of them function within the web browser on your device. Jigsaw Planet allows users to sign up for free site membership, but this isn't needed to play the puzzles and is simply used to rate those you like or dislike.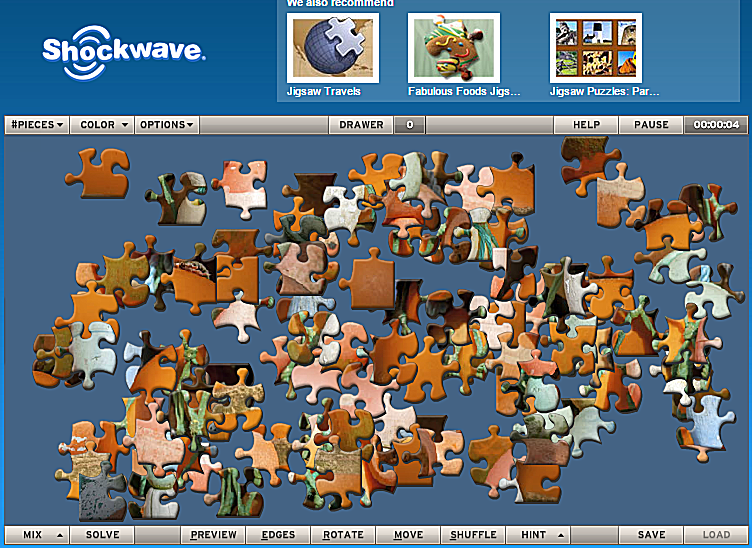 Im-a-puzzle.com is a website with thousands of free jigsaw puzzles organized by category. From pets to insects, sport, and space – you're bound to find an online jigsaw puzzle that piques your interest. There's no need to download an app, but if you'd like to save your played puzzles and even create your own, you can register for a free account.
You have the opportunity to choose the difficulty level of each puzzle, as well as the style of the puzzle pieces. Another cool thing is the ability to rearrange the pieces, preview the finished product, and get a shadow of the picture under the working area.
Microsoft Jigsaw
Microsoft Jigsaw is a free jigsaw puzzle app for Windows tablets and computers that supports both mouse and touchscreen controls. You can unlock themed puzzle collections by completing puzzles and buying them with in-game coins that you can earn while playing. The option to create your puzzles with an image on your device or take a photo is also available.
What sets Microsoft Jigsaw apart is its Jigsaw Jam mode. That makes solving a race against the clock more than a slow-paced activity and its Xbox Live connectivity. The latter allows users to log in with their Xbox account from their Xbox 360 or Xbox One console and rank in online leaderboards, and unlock Xbox Achievements, something no other jigsaw puzzle app offers.
GamesGames
GamesGames is also one of the most popular daily jigsaw puzzle games online. It features hundreds of free puzzles that you can play directly from within any popular web browser such as Microsoft Edge, Google Chrome, or Mozilla Firefox. Puzzle themes range from food and cities to cats and Disney characters, and all of them are coded in HTML5, which means that no apps or plugins need to be downloaded.
Each jigsaw puzzle on GamesGames has three difficulty levels to choose from, with the easiest using fewer larger pieces and the hardest using many smaller ones. Background music and sound effects are also used once each puzzle begins. But these can be disabled by unchecking the relevant boxes above the puzzle.
Jigsaw Explorer
Jigsaw Explorer isn't entirely ad-free, but it almost is. This free online jigsaw puzzle website features an immaculate layout that showcases puzzles in an easy-to-read style and only uses one banner advertisement on the jigsaw play and selection pages. These two design decisions make Jigsaw Explorer stand in stark contrast to almost all of the other puzzle sites that are usually cluttered with ads and crammed with as much text and links as possible.
You can find different puzzles on Jigsaw Explorer via the search bar, but the focus is on the curated featured puzzles on the front page, updated daily. Users can also upload their images to the site. With them, you create a new puzzle that you can easily share with friends.
Online Puzzle App: Jigsaw Puzzle
Jigsaw Puzzle is a popular free app for iOS and Android devices. It features a mix of thousands of free jigsaw puzzles and a growing number of paid puzzle packs. Unlike many of the other free puzzle apps, this one boasts HD resolution for all of its imagery. It also allows you to specify exactly how many pieces you'd like to have in a jigsaw via a slider.
The app comes pre-installed with several puzzles, with the rest of the library being available to download online with the tap of a button. New jigsaw puzzles are also added on a very regular basis.
Players can connect to Facebook to sync progress between devices, and one paid puzzle is made available to play for free every day.
Magic Jigsaw Puzzles
Magic Jigsaw Puzzles is one of the best free jigsaw puzzle apps in the Google Play app store. The app features a clean design that makes it easy to find puzzles. You can begin playing without the need for navigating through multiple menus or screens. Magic Jigsaw Puzzles does offer a range of puzzles that can be purchased with real-world money, starting from $1.45, but the app's focus remains on highlighting the thousands of free apps, which is a refreshing change.
New jigsaw puzzles are added to Magic Jigsaw Puzzles at least once a month, and players can choose to download whichever puzzle packs suit their tastes.
Jig Zone
Jig Zone is one of the best-looking sites for playing online jigsaws for free. Its dynamic layout simultaneously acts as a showcase of its many puzzles and a menu selection system. All you need to do is move your mouse's cursor over the background images to select a puzzle, choose a difficulty level, and begin playing. It all works very well and is rather fun to use.
Unfortunately, Jig Zone's puzzles are limited to those that use a mouse as the jigsaws won't recognize touch gestures at all. Another downside is the complete lack of a fullscreen mode for the puzzles, which may deter some jigsaw enthusiasts.
These all are the best daily jigsaw puzzle games available online.